All religions have their own gods. Members of one religion have no faith in the gods of other religions.Some religions are monotheistic, and others polytheistic. Let us get acquainted with the sexual morality of some of these gods, and their genesis as given in the scriptures of respective religions, and compare their morality with that of civilized man.
BRAHMA AND SARASWATI
Brahma is one of the three main gods-Trimurti-of the Hindu pantheon. He is the creator of the universe, Saraswati, who became the wife of her own father, was the daughter of Brahma. There are two stories about her genesis in the
"Saraswati Purana". One is that Brahma created his beautiful daughter Saraswati direct from his "vital strength" or seminal fluid. The other is that Brahma used to collect his semen in a pot whenever he masturbated fixing his carnal eyes on the celestial beauty Urvasi. Brahma's semen in the pot gave birth to Saraswati. Thus,Saraswati had no mother.
This daughter or grand-daughter of Brahma is the Hindu goddess of learning. When Brahma saw the beauty of Saraswati he became amorous. To escape from her father's passionate approach Saraswati ran to the lands in all four directions, but she could not escape from her father. She succumbed to Brahma's wish. Brahma and his daughter Saraswati lived as husband and wife indulging in incest for 100 years. They had a son Swayambhumaru. Swayambhumaru made love with his sister Satarpa. Through the incest of Brahma's son and daughter Brahma got two grandsons and two grand-daughters.
SHIVA
God Shiva had two wives-Ganga and Parwati. It was while Shiva was frolicking and making love with Parwati in the forest in the form of elephants that Ganapati, the god with the head of an elephant was born. On another occasion when Shiva was frolicking with Parwati in the form of a monkey, Hanuman the monkey god was born.
Once when Parwati was away, Shiva had sexual inter course with a woman called Madhura, who came to Kailas to worship him. On her return, Parwati saw her husband Shiva making love with Madhura, and she became a frog. When the period of the curse was over after twelve years, the frog took the form of Mandodari who became the wife of Ravana, the ten-headed king of Lanka. The sperm of Shiva which remained dormant in the womb of Mandodari when the was frog began to develop, and finally gave birth to Indrajit. Thus, the so-called son of Ravana-Indrajit of Lanka-was an intelligence son of Shiva.
INDRA
Indra is the head of all gods. Amarawati was his celestial residence. Arjun was born to Indra as a result of his clandestine adultery with Pandu's wife, he had no hesitation in committing adultery with the wives of other men. One day when Indra saw Ruchi, the beautiful wife of Devasarma, he became extremely passionate and wanted to seduce her. But Ruchi chased Indra out ,and he had to go away disappointed.
On another occasion Indra could not control his sexual passion when he saw Goutama's wife Ahalya. He committed adultery with Ahalya when her husband was away. On his return home Goutama saw Indra in sexual interlock with his wife. Goutama cursed both of them.
Once Aruna visited Devaloka in the disguise of a woman. When Indra saw this woman in disguise he could not control his passion. He had sexual intercourse with this imitation woman. Bali was born as the result of this un-natural homosexual cohabitation.
KRISHNA
Krishna is the 9th incarnation of Mahavishnu. Like Jesus Christ, Krishna was born as the "son of man" at Ambadi among cowherds. Although he had sixteen thousand and eight wives, Krishna did not let other women go free. Once, when he saw some Gopi women bathing in the river Kalindi, Krishna carried away their clothes from the bank of the river, and got on a nearby tree to feast his eyes on the Gopi women bathing in the nude. He returned their dresses only after each of them came out of the water and worshipped him so that he could see their nude bodies in full. It is claimed that Krishna was so potent that he could satisfy all his 16008 wives at the same time.
RAMA
Sri Rama was another incarnation of Mahavishnu. He and his three brothers Lakshmanan, Bharatha and Shatrugna were born to three wives of King Dasharatha. Like Jesus, Ram and his brothers were not through a human father although Dasharatha was the husband of their mothers. They were conceived in their mothers' wombs as a result of the three women eating portions of a sacred porridge.
JESUS CHRIST
Although St.Mary's other children were born to her husband Joseph, it is said that Jesus alone was born to her as she got conceived through Holy Ghost, one of the three-in-one god of the Christians. Although May had many children, she is worshipper as a virgin by Christians.
SHEELAVATI'S CONCEPTION
According to a Buddhist scripture Sheelavati conceived in an unusual way like St.Mary and the wives of King Dasaratha without sexual congress with a man. Shakra in the Develoka knew that Sheelavati on the earth was pinning to have a child. God Shakra came down to the earth one night when Sheelavati was sleeping. He touched Sheelavati's navel with his toe, and she conceived and gave birth to a child.
SABARIMALAI SASTHA
Sabarimalai Sastha or Ayyapa is a sylvan god worshipped by the credulous Hindus of Kerala and Tamil Nadu in India. He is the son born to Siva and Vishnu as a result of a homosexual act.
To escape from the curse of the powerful demon Durwasa, all the gods joined together and churned the milky ocean to gather "Amrut"-a butter-like ambrosia. They collected the "Amrut" in a pot, and kept it to be served at a heavenly feast. An Asura (demon) from the nether world stole the pot of " Amrut from Develoka. When the loss of the ambrosia was detected, the omniscient Vishnu was able to know where it was. He went to the nether world in the guise of Mohini, a woman of exquisite beauty, and brought and back the "Amrut" and served it to the gods. When Mohini was serving the Amrut, Shiva got intoxicated with her beauty and had sexual intercourse with her, who was in reality Vishnu. Vishnu became pregnant as a result of the homosexual act, and gave birth to Sastha from his thigh. Both Shiva and Vishnu discarded this un-naturally born illegitimate child in the forests of Sabarimalai in Kerala.
JAGANNATH
Jagannath is the god enshrined in the famous Hindu temple at Puri. Sankarachariya, the spiritual head of the present Hindus of India, is the devotee of Jagannath of Puri. Hundreds of measures of rice and dal are cooked here daily to feed the thousands of worshippers.
At the Jaya-Vijiya gate of this temple various type of sexual orgies of the god Jagannath can be seen sculptured on granite stones. On the outer walls of this temple are life-size sculptures of the 64 types of sexual mating of men and women as described in the Kamasutra of Vatsyayana.
The dance Bhajan in this temple begins after 10 p.m each day behind closed doors. It is performed by one of the 120 dancing girls in the service of the temple. Each night a new dancing girl will have to come to the temple to dance before god Jaganath. This dance is witnessed only by the lifeless statue of Jagnnath and the Brahmin priest who plays on the musical instrument.
As the dance heightens to a crescendo, the girl discards her dress and dances stark naked. She then throws herself to the statue of Jagannath in an ecstasy shouting "O Lord, I am thy bride, please make love with me".
Whether it is the lifeless idol of Jagannath or the living Brahmin priest who makes love with her is not known.
Dancing girls who have retired form the service of god Jagannath are now making both ends meet by leading a life of prostitution in the streets of holy Puri. Their patrons are the worshippers who come in their thousands to the sacred city.
In reality none of these gods exist or ever existed. They are the products of mental fantasies of some surrealistic creative thinkers of the past. Even today there are mentally deranged persons indulging in creating new gods. All the amorous stores connected with these gods also are the subjective creations of sex-starved surrealistic thinkers obsessed with sexual thoughts.
The abominable and perverted morality among the godmen of India may be due to the abnormal sex behaviour of their gods! Tall Brook, the American devotee of Sai Baba, has written in his book about Sai Baba's homosexual assaults on himself and other fair-skinned youths at Puttaparti.
According to Beatle John Lennon, the reason why the Beatles left Maharishi Mahesh Yogi was the Maharishi"s attempt to rape one of their women-Mia Farrow.
Guru Maharaj Ji was caught by a hidden camera in osculatory embrace with the house-maid while his American wife was in another room.
The first Shankarachariya-Adisanakara-who led a celibate life claimed omniscience. He could not answer a question from a devotee about sex matters as he could not speak with authority about a thing he had not experienced. So he asked the devotee to come later, and said that he would answer him after experiencing sex. It is stated that Shankaracharya got into the body of a married man, and had sex with his wife.
Those who clamour for teaching religion in schools realize the dangers of teaching innocent children in their impressionable ages obscene stories about these imaginary gods. According to the modern standards of civilized man's ethics and morality these gods are very bad examples for our children to emulate. Let use refrain from teaching falsehood to our children in the name of religion!
from Page 77 - Chapter 8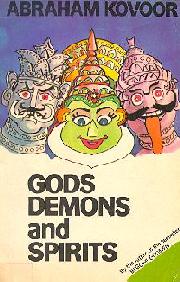 Prakash.Arumugam@med.uni-giessen.de